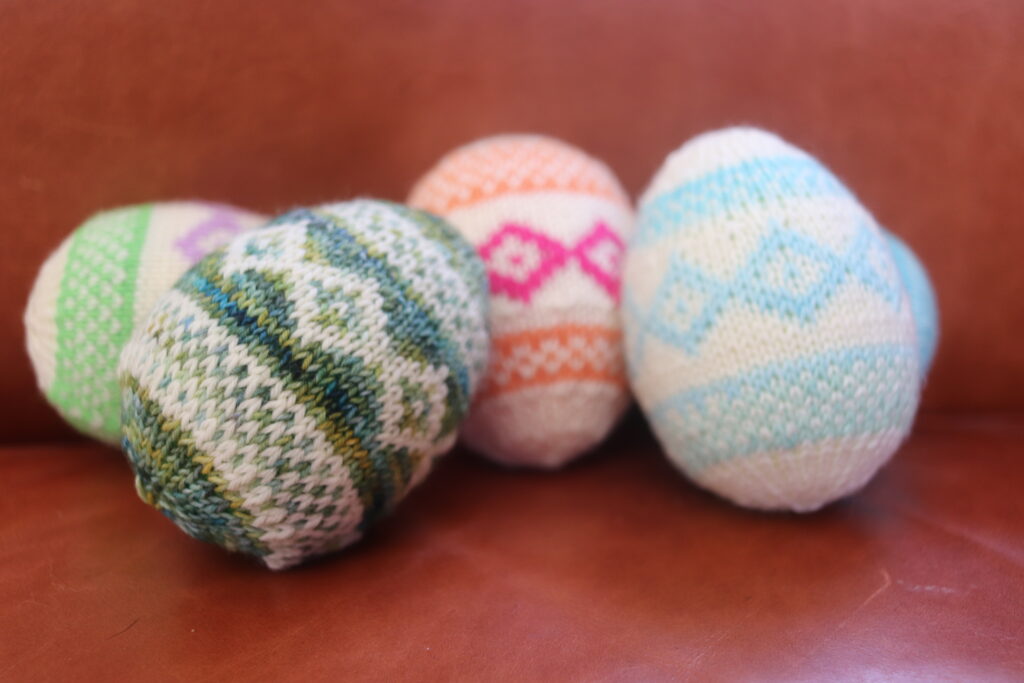 Time to knit some springtime cheer
I had so much fun knitting up the samples for my Egging Around pattern. And I really enjoyed giving them away too. But now it's almost April, and I don't have any eggs to decorate with! Time to knit new ones for myself.
I'm wondering if you would like to join me? I'll be hosting an Egging Around Knitalong April 1-17. What is a Knit Along? A knitalong is where dozens of knitters simultaneously work on the same project – it's a fun community event! I'm planning to host a couple of Zoom calls- won't that be fun? And of course there will be chatter in the Ravelry thread and Facebook group! I'm so looking forward to seeing what you knit up!
Stranded knitting not your thing? Don't feel left out! I'm going to knit a couple of plain eggs (one with stripes and maybe even some crazy variegated colors) so please come knit along! Not sure about buying the plastic egg inserts? I haven't tried it, but stuffing with polyfill should work, since there are no open holes in the pattern.
Here's a link to the sign up page. After you confirm your email address (a very important step!) you'll get a download link for the KAL FAQ. There's information about the plastic inserts I used, and a coupon for 30% off the Egging Around pattern, good through the end of the KAL.
You can find the pattern here on Ravelry, and here on Payhip.
Hope to see you over Zoom! Happy Egging!
<3
Stacey